Download Full-length Video: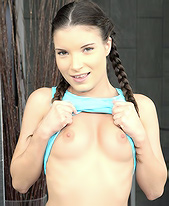 Anita Bellini
Sweet brunette enjoys her day at the indoor pool. She relaxes and listens to soft music when she decides to take care about her clean shaved pussy. She rubs every inch of her juicy pussy when she notices an old worker spying on her through a glass door. She gets very angry but luckily he knows how to lick forgiveness. His pussy licking skills turn out to be so satisfying that the sexy babe forgives him and even allows him to penetrate her pussy and cum into her mouth.
Rate This Scene (Overall Rating 8.11) | Rate This Model (Overall Rating 9.4)
WATCH MORE...
click here to download full scenes right now!