Download Full-length Video: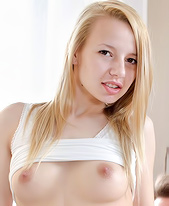 Angel
Sexy babe cooks breakfast for her older lover in the kitchen. She cuts bread and vegetables and lays the table. Sure, dude eats everything with gratitude but when he asks for dessert he gets nothing. Luckily, the hottie is blessed with a sweet pussy that she uses to satisfy her lover's needs. So, she climbs onto the table, lifts one leg and tells him to stuff her slit. In the end, the dude even covers beautiful tits of the kneeled cutie with a huge load of sperm.
Rate This Scene (Overall Rating 10.00) | Rate This Model (Overall Rating 9.5)
WATCH MORE...
click here to download full scenes right now!