Download Full-length Video: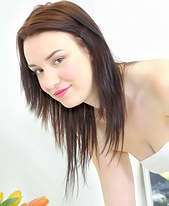 Lenka C
Lenka wants to model and the old guy knows she'll give up her sweet teen pussy to get the job, which is why he urges her to take her clothes off and open her legs. He licks the cunt his cock desires and soon has her bent over the desk with his shaft inside her from behind. He lasts a long time and after all the fucking spills his load on her face and chest.
Rate This Scene (Overall Rating 10.00) | Rate This Model (Overall Rating 9.2)
WATCH MORE...
click here to download full scenes right now!