Download Full-length Video: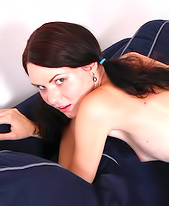 Elsa
Who says tobacco is bad for you? I am not saying getting a cute teen girl to try smoking is a good thing, but if it leads to getting pussy like it does with Else I say give it a try!. This adorable barely legal brunette is so easily influenced if you pushed a cigarette in her face she'll smoke it, a cock by her waist and she'll fuck it. Hell, wave your pecker in her face and she will gobbler your knob and guzzle your cum. Good Girl Elsa!
Rate This Scene (Overall Rating 7.80) | Rate This Model (Overall Rating 7.9)
WATCH MORE...
click here to download full scenes right now!