Download Full-length Video: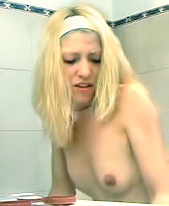 Cirenia
Cirenia is one of those girls that do not look as old as she is. This ultra cute 18 year old blonde teen has tiny little tits and a cleanly shaven pussy. The thing is she really doesn't get to use it very much because she is a shy good girl type. So when her brother and his friends invite her to go along with them to the big city she can't resist. During one of the outings she decided to go back to the hotel room to freshen up and maybe take a nap and that is when the fun begins. One of her brothe's friends is at the room and he is stroking his cock to a magazine imagining he is with Cirenia when she walks in on him. He barely had enough time to put his cock away before she caught him. But he follows her into the bathroom and immediately makes his move. It pays off in a big way as he teaches this inexperienced teen how to suck a cock for the very first time and he fucks her very tight pussy. She likes it so much that as he sprays his cum all over face she actually pops his cock back in her mouth to suck the rest out.
Rate This Scene (Overall Rating 7.84) | Rate This Model (Overall Rating 8.4)
WATCH MORE...
click here to download full scenes right now!