Download Full-length Video: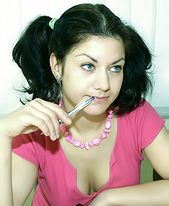 Helen B.
Helen is back and this time the cutie is fucking the plumber! Yup, she calls the old guy over to work on the shower and he works on her tight little twat instead. Licking and sucking on it before she gets hot enough to drop down and bob knob. Once old dude's cock is hard as fuck all she climbs on top and lets him work over her plumbing by bouncing on his pipe. He finally blows his silvery spew right into her mouth where it dribbles down her chin.
Rate This Scene (Overall Rating 8.33) | Rate This Model (Overall Rating 8.6)
WATCH MORE...
click here to download full scenes right now!