Download Full-length Video: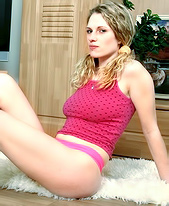 Jina B.
Jina is blonde teen hottie who has a thing for older men. She knew that her boyfriends stepfather was going to be stopping by today and she was going to be all alone with him. Jina wanted to fuck him since the first day they met and she had caught him staring at her a few times, so when he arrived, she seized the moment. This old guy had no idea what he was walking into, but when Jina began to make her move, he could not resist the temptation to tap that tight teen pussy of hers.
Rate This Scene (Overall Rating 8.69) | Rate This Model (Overall Rating 9.2)
WATCH MORE...
click here to download full scenes right now!