Download Full-length Video: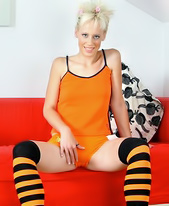 Laska B.
Damn Laska is one of those extremely cute-almost-shy type of girls. But what's a girl to do when she is having problems with her art home work? Why the only thing she can do of course; rub her tiny little pussy for the teacher. This of course leads to cock sucking and pussy banging. Teach buts into her wide open and hungry mouth before putting her back to work, but I suspect she will get a good grade on this one.
Rate This Scene (Overall Rating 6.78) | Rate This Model (Overall Rating 8.2)
WATCH MORE...
click here to download full scenes right now!