Download Full-length Video: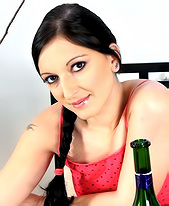 Seraphima
Can't a cute teen girl take a bath in private without being disturbed? I guess not as old dude walks in on her as she is washing her sweet little titties. She tries to cover up but it doesn't do any good, soon he is naked and licking her delicious pussy before feeding his old cock to her hungry mouth. He fucks her nice and hard considering his age and both have a great time.
Rate This Scene (Overall Rating 7.62) | Rate This Model (Overall Rating 8.0)
WATCH MORE...
click here to download full scenes right now!