Download Full-length Video: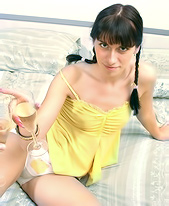 Tanya E.
When a friend of Tanya's mom is staying with them for a few days she really doesn't think twice about taking a nap on the daybed. What she didn't realize was that while she was used to not wearing panties, this stranger in her house could see her pretty little pussy easily. He wakes her up with a hard cock and doesn't stop until he has cum all over her pretty little titties.
Rate This Scene (Overall Rating 9.04) | Rate This Model (Overall Rating 9.0)
WATCH MORE...
click here to download full scenes right now!