Download Full-length Video: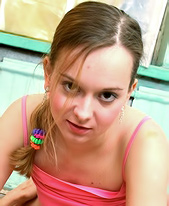 Nataly C.
Nataly hates studying so her dedicated tutor decided to really help her out. This older guy has always thought this teen sweetheart was sexy as hell and now if his chance to really take her under his tutelage. She really enjoys her lessons on male anatomy and pleasing a man. But as he sprays his cum down onto her tits and tummy she learns how much she like that too.
Rate This Scene (Overall Rating 8.35) | Rate This Model (Overall Rating 8.6)
WATCH MORE...
click here to download full scenes right now!