Download Full-length Video: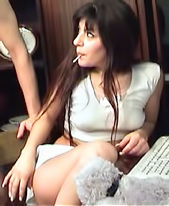 Vanessa B.
Vanessa is a much younger friend of Charli's wife who needed to come over and use their computer for awhile. Since Charli's wife was out getting her hair done and Vanessa was on the computer Charli decided her would take a shower. Of course being naked in the same house with a gorgeous young woman like Vanessa tempted Charli into trying something bold so he walked in the den where the computer was, wearing nothing but a towel, and started to touch Vanessa. She resisted at first but once he started to fondle her tits and her nipples became very hard there was no denying that she was turned on. The action in this one is very hot with both oral and fucking action in multiple positions. Vanessa knows how to use her mouth and pussy well. Charli busts his nuts all over her ass as he fucks her doggy style.
Rate This Scene (Overall Rating 7.46) | Rate This Model (Overall Rating 8.1)
WATCH MORE...
click here to download full scenes right now!