Download Full-length Video: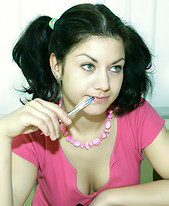 Helen B.
Helen starts off this video stating quite plainly that she is tired but must train and in this case that happens to involve a message by her trainer that leads to some interesting tits massaging. But he isn't just a boobies mauler he also licks that slick little cunt before encouraging her to suck cock. Then come to full on pussy workout with his old dick pounding her good and hard until he blows his load right inside her pussy, letting just a small amount of cum drizzle out.
Rate This Scene (Overall Rating 9.00) | Rate This Model (Overall Rating 8.6)
WATCH MORE...
click here to download full scenes right now!