Download Full-length Video: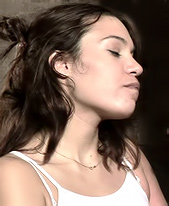 Claudia
Claudia's father is having a bunch of people over to his house for a cookout and of course Claudia is stuck inside preparing the grill. One of the employees arrives a little early to the party and Claudia's parents have to go out to pick some items up for the dinner. So the employee decides to pay this cute 18 year old Latina girl a little visit. It does not take him long to decide hamburgers isn't the only thing that should be on the menu today. He playfully starts touching Claudia and it really doesn't take very long for this dark skinned spicy girl to get ready to have her tight bald pussy fucked by this much older man. He undresses her and fingers her pussy until it gets very wet and then it is on to the cock sucking and the hard core fucking. She gobbles up his thick load of cum at the end of this hot video!
Rate This Scene (Overall Rating 7.92) | Rate This Model (Overall Rating 8.4)
WATCH MORE...
click here to download full scenes right now!