Download Full-length Video: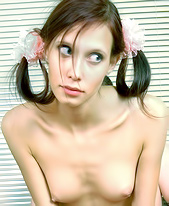 Ksusha
Ksusha is a blue-eyed Russian babe who doesn't get along with her mother very well at all. She is temporarily staying with her until she can save up some more money and move out. After a major battle with her mom, her mom storms out of the house and Ksusha decides she needs some alcohol to make her feel better. Her mother's boy toy always wanted to fuck Ksusha and he takes this opportunity to play the sensitive guy and make his move. He's one hell of smooth talker, for it wasn't long before he had Ksusha lying on her bed, her sweet young pussy spread wide, waiting for him to slam her shaved cunt until it was swollen and sore.
Rate This Scene (Overall Rating 8.36) | Rate This Model (Overall Rating 9.1)
WATCH MORE...
click here to download full scenes right now!