Download Full-length Video: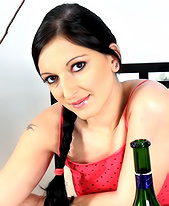 Seraphima
I want to be a tutor; seriously, these guys get the best pussy of all. Seraphima is not studying and instead she is sitting at the table sipping wine and reading a magazine when her tutor walks in and corrects her cute ass. Next thing you know she is sucking cock and getting the hell fucked out of her tight little pussy!
Rate This Scene (Overall Rating 7.36) | Rate This Model (Overall Rating 8.0)
WATCH MORE...
click here to download full scenes right now!