Download Full-length Video: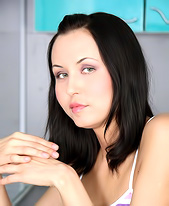 Tatyana V
Tiny tits teen Tatyana is quite the tease playing hard to get until Daddy's friend drops down and licks her pussy. After that she doesn't seem to have much of a problem having his cock pushing into her mouth or shoved into her tight little snatch. She even seems to enjoy getting her tits glazed with his cum.
Rate This Scene (Overall Rating 8.69) | Rate This Model (Overall Rating 8.8)
WATCH MORE...
click here to download full scenes right now!