Download Full-length Video: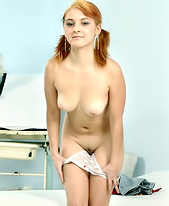 Nataly D.
Nataly is a gorgeous redheaded teen hottie with an incredible appetite for sex. She loves to have sex and explore her fantasies. One her friends told her about a doctor in the city who is getting quite the reputation for fucking his hot young patients. That was music to Nataly's ears for she always wanted to fuck a doctor in the exam room. She called and made an appointment claiming that she had a sore throat and swollen glands for a week and it isn't getting any better. Needless to say, the doctor had just the right cure for her sore throat and it didn't involve traditional medicine.
Rate This Scene (Overall Rating 8.26) | Rate This Model (Overall Rating 8.7)
WATCH MORE...
click here to download full scenes right now!